Precious metal and precision micromachined components
Medical device companies need a partner who can offer high quality, comprehensive solutions, to help manufacturers develop competitive technologies that are first to market. Two centuries of materials expertise and innovative manufacturing technologies enable us to efficiently meet our customers' needs.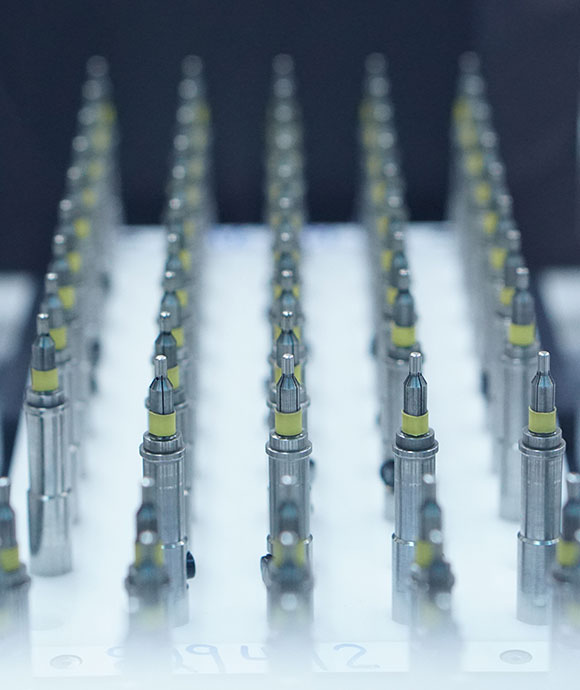 Product
Metal
Specifications
Features

Cut tubing

Pt alloys, Au alloys,
Pd alloys, Ta alloys,
Nitinol Compositions customisable
OD: 0.22mm and above
ID: 0.15mm and above
Wall thickness: 0.025mm
and above
We can do secondary machining operations on
cut tubes - Notches, slits, edge conditioning / modification.

Precious metal spherical powders

Pt alloys, Au alloys,
Ta alloys

Can provide in sizes as small as 20 microns

Optimal size uniformity

Sheet

Pt- alloys, Au- alloys, Pd-Pt, Pd Alloys, Nitinol

Thickness: 0.0125mm
and above 0.005mm
and above
Width up to 26" up to 24 inches

Manufactured to customer specs in a variety of machining methods - EDM, Screw machine, Laser

Component parts

Pt- alloys, Pt- substitution alloys, Pd alloys, Nitinol and other specialty materials

All specs customizable as
per customers' requirements and designs

Anti-bacterial anti-microbial properties

Medical wire, fine
wire, machining
rod stock

Pt- alloys, Pt- substitution alloys, Pd alloys

Diameters - 0.0315mm
and up. Size ranges from 0.018mm to greater
than 30mm
Tighter tolerances achievable.
Different spooling options available.
Cut to length wire/pins/spheres.
Temper/heat treatments
can be done.
The next generation of minimally invasive surgical devices rely upon complex engineering, precise delivery, and excellent mechanical control.
We leverage decades of micromachining expertise to provide our customers with high-quality electrodes, markers, and other medical components. Our customers greatly benefit from collaborating with our dedicated team of researchers, engineers and sales representatives from the initial phases of R&D prototyping through product launch. Beyond our emphasis on manufacturing excellence, we also offer metal and inventory management options to ensure supply chain security, with full turnkey refining and recycling solutions. From cochlear implants to pacemakers: we combine our proficiency in micromachining with our deep knowledge of metallurgy to benefit customers and patients alike.
Contact us
Want to make an enquiry or provide feedback? Get in touch below.