An ecosystem approach
The sustainability challenges the world faces are complex, we recognise that many different approaches are needed to determine the most effective and commercially viable solutions.

Through our innovation hub, JM engages with accelerator and incubator ecosystems across the globe. These partnerships allow us to work with a large number and diverse nature of participants and resources to develop innovative future technologies in our areas of interest.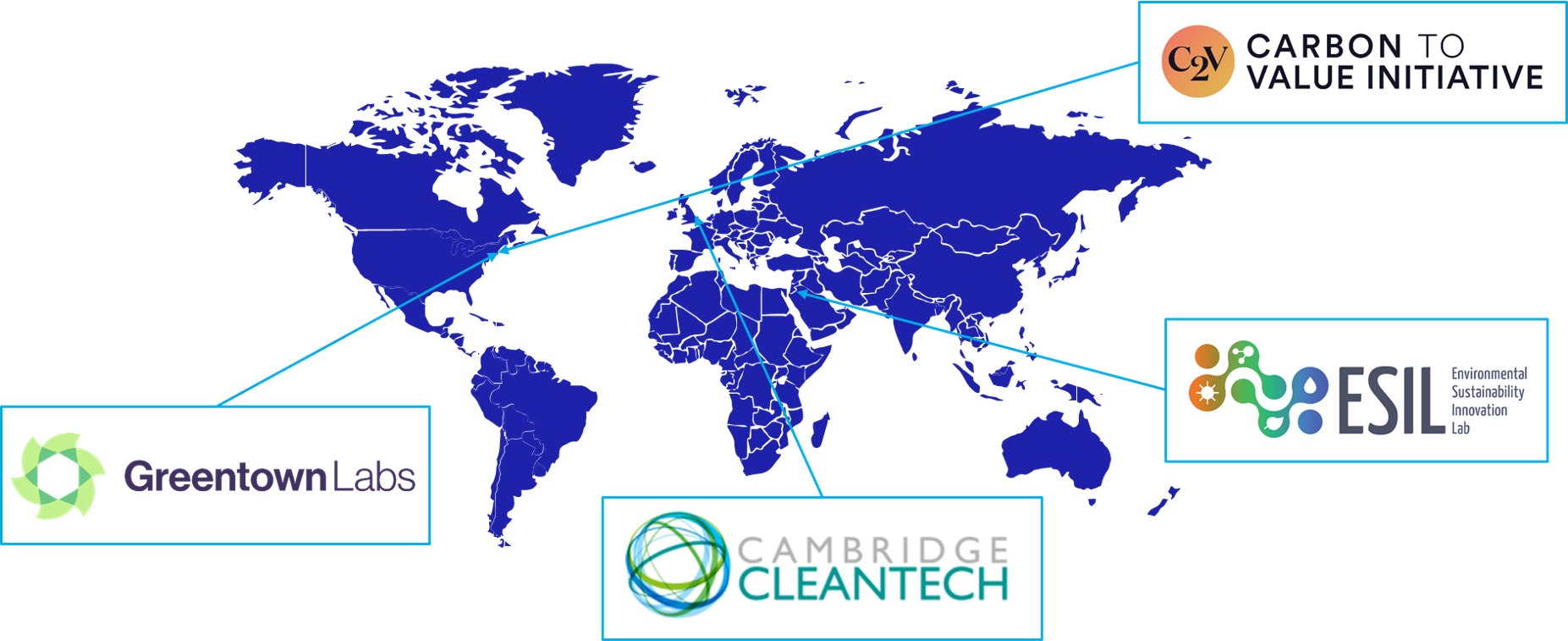 Environmental Sustainability Innovation Lab (ESIL)
In September 2020, we launched the Environmental Sustainability Innovation Lab in Israel, alongside our co-founders Bazan and EDF Renewables. ESIL provides a platform for establishing breakthrough sustainable solutions to environmental problems by connecting industries looking for green technology solutions with Israeli tech entrepreneurs and startups.
Israel is known for its diversity of innovative technologies and business models, often called "the Startup Nation". And through this ecosystem, we have evaluated 90 startups, determining whether they are suitable candidates for partnership.
Carbon to Value (C2V)
The Carbon to Value (C2V) Initiative is a unique multi-year collaboration to accelerate the carbontech industry, driving the commercialisation of technologies that capture and convert carbon dioxide into valuable end products. Maurits van Tol, our CTO, sits on the Carbontech Leadership Council (CLC) alongside senior representatives of other industry leaders including Unilever and Mitsubishi Chemical Corporation. Through this ecosystem, JM engages with a large cohort of startups, corporations, policy makers and risk and finance institutions that want to lead the transition to a net-zero carbon economy.
Greentown Labs
Greentown Labs is the largest cleantech startup incubator in North America with 250+ current and alumni members working across a variety of cleantech and clean energy sectors. We joined Greentown Labs in August 2020 and, as a Terrawatt partner, we engage with startups working on sustainable technologies that fit our vision of a cleaner, healthier world.
Through this ecosystem, we have partnered with Kebotix, a U.S.-based technology platform company for new chemicals and materials. Kebotix's digital AI technology will enable us speed up our experiments for testing new formulations of catalyst coatings for our emission controls catalysts.
Cambridge Cleantech
Cambridge Cleantech is the UK's longest-standing membership organisation for the cleantech sector, connecting innovators, corporates, academics, SMEs and investors for a smarter, more sustainable future. It operates as a global hub for cleantech innovation and is linked to some of the most highly innovative centres both in the UK, including London and Oxford, and internationally through global cluster partners. Our partnership as a founder member enables us to connect and collaborate with the UK and international climate tech community.