Preliminary results for the year ended 31st March 2023
Catalysing the net zero transition to drive value creation
25 May 2023
Continued progress on strategic execution
Results in line with expectations albeit below the prior year, against a challenging macroeconomic backdrop
Delivering on strategic milestones
Executing on transformation: delivered c.£45 million cost savings in the year and on track for at least £150 million annualised cost savings by 2024/25
Business wins in Catalyst Technologies and Hydrogen Technologies underpin confidence in strong growth prospects
Strong cash generation and platform wins in Clean Air support long-term £4 billion+ cash generation target
Accelerating demand for our energy transition solutions supported by government-led investment programmes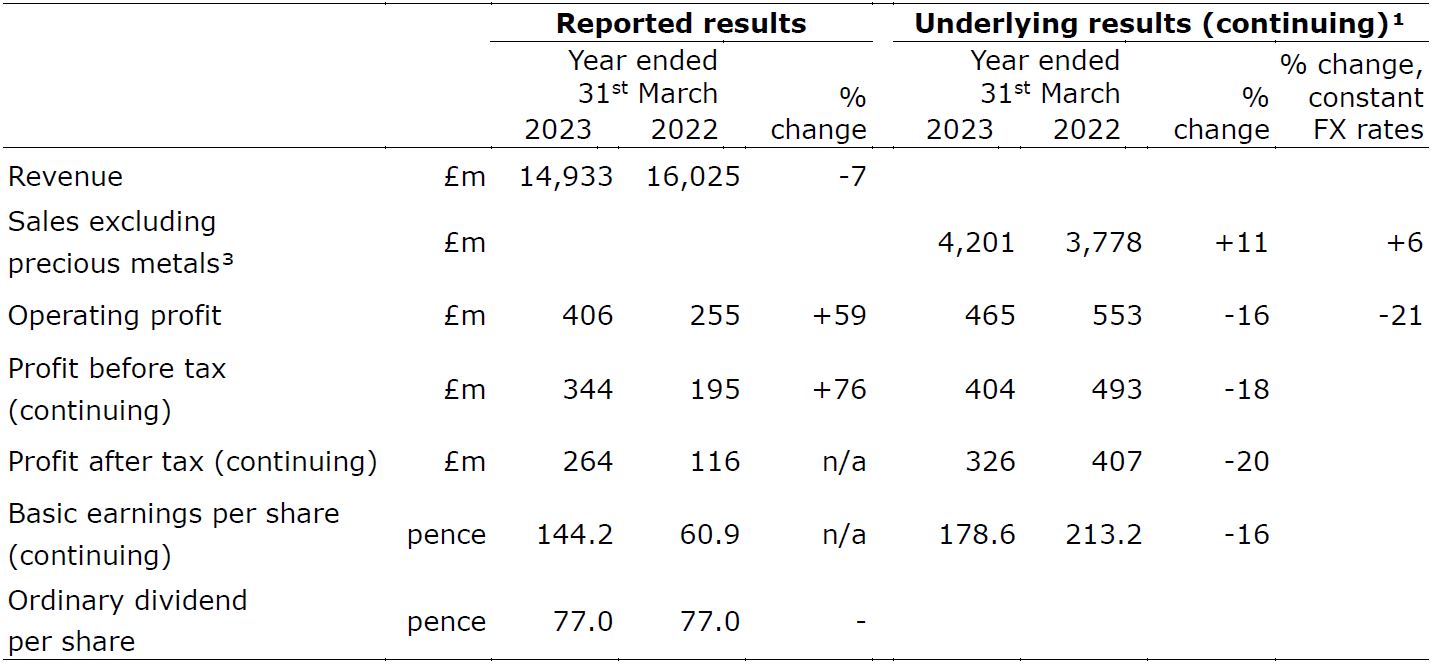 Underlying performance – continuing operations¹,²
Sales of £4.2 billion, up 6%, with higher prices to partially recover cost inflation, partly offset by lower average PGM prices
Underlying operating profit of £465 million, down 21%. Almost half was due to lower average PGM prices with the remainder largely due to cost inflation and lower volumes in PGM Services and Clean Air. This was partly offset by transformation benefits
Underlying earnings per share of 178.6p, down 16% due to lower underlying operating profit
Free cash flow of £74 million, compared to £221 million in the prior year largely reflecting lower underlying operating profit and working capital movements
Strong balance sheet with net debt of £1.0 billion; net debt to EBITDA of 1.6 times
Reported results
Revenue down 7%, driven by lower average PGM prices
Operating profit of £406 million, up materially, largely due to the absence of a one-off impairment in the prior period relating to Battery Materials
Profit before tax (continuing) of £344 million, compared to £195 million in the prior period, reflecting higher operating profit due to the absence of the Battery Materials impairment
Reported earnings per share (continuing) of 144.2 pence
Cash inflow from operating activities of £291 million (2021/22: £605 million)
Ordinary dividend of 77.0 pence per share stable year-on-year
Strategic highlights
Agreed two strategic partnerships in Hydrogen Technologies (Plug Power and Hystar), won five additional large scale projects in Catalyst Technologies, and won Euro 7 business in Clean Air
Hydrogen Technologies partnerships underpin targeted sales of more than £200 million by the end of 2024/25, with significant growth in sales and profitability thereafter. This business is anticipated to be breakeven in 2025/26
Catalyst Technologies expected to deliver high single digit growth over the medium term, with margins returning to mid-teens within the next two years (by end of 2024/25)
Clean Air – delivered £1.4 billion⁴ cash over two years, and outperforming the rate of business wins required to achieve our cash generation target of at least £4 billion by 2030/31
Delivered c.£45 million cost savings in 2022/23 and on track to deliver at least £150 million annualised savings by 2024/25
Committed to achieving net zero by 2040 and now targeting 42% reduction in Scope 1 and Scope 2, and 42% reduction in Scope 3 greenhouse gas emissions by 2030
Liam Condon, Chief Executive Officer, commented:
I have now been with Johnson Matthey just over a year and it is exciting to see the progress we are making. We have navigated global macroeconomic challenges to report full year results in line with market expectations, with a stronger second half as we indicated back in November. We have also been delivering against our strategic milestones with important customer wins, which will drive growth. These include the strategic partnerships with Plug Power and Hystar in Hydrogen Technologies and the five large project wins in Catalyst Technologies, which already demonstrate our ability to win in a net zero world. It has been a good start and a year of progress, but there is much more to do.
The opportunity for Johnson Matthey is even greater than I had expected with government-led investment programmes developing at pace. The Inflation Reduction Act in the US, the EU's Green Deal Industrial Plan and continued commitments in the UK – all within the past year – are driving the net zero transition with greater urgency.
We have made progress in many areas and remain focused on accelerating our plans to simplify the organisation and speed up our decision making, as we build a stronger and more flexible platform for growth. Despite continued market volatility we are on track to deliver on our commitments and, with the opportunities ahead of us, I see a very bright future for Johnson Matthey.
Outlook for the year ending 31st March 2024
For 2023/24, we expect at least mid-single digit growth in operating performance at constant precious metal prices and constant currency. This is underpinned by efficiency benefits of c.£55 million in the year.
In Clean Air, we expect strong growth in operating performance. Whilst external data suggest limited growth in vehicle production for 2023/24, margin expansion should mainly be driven by efficiency benefits. PGM Services' performance will be largely driven by precious metal prices, with recycling volumes expected to be subdued. We expect strong growth in operating performance for Catalyst Technologies. This reflects an improvement in licensing income and a significant uplift in margins, benefiting from pricing and efficiencies. We expect sales to grow strongly in Hydrogen Technologies and we will continue to invest for growth resulting in an operating loss at a similar level to 2022/23.⁵
Precious metal prices have been volatile and consequently it is difficult to predict how they may develop. To illustrate the impact they may have on our results, assuming prices remain at their current level⁶ for the remainder of 2023/24 there would be an adverse impact of c.£50 million⁷ on full year operating performance compared with the prior year. We are focused on mitigating the potential impact on our performance.
At current foreign exchange rates⁸, translational foreign exchange movements for the year ending 31st March 2024 are expected to adversely impact underlying operating profit by c.£10 million.
Dividend
The board will propose a final ordinary dividend for the year of 55.0 pence per share at the Annual General Meeting (AGM) on 20th July 2023. Together with the interim dividend of 22.0 pence per share, this gives a total ordinary dividend of 77.0 pence per share, maintained at the same level as the prior year. Subject to approval by shareholders, the final dividend will be paid on 1st August 2023, with an ex-dividend date of 8th June 2023.
Board changes
We are pleased to announce the appointment of Barbara Jeremiah as an independent Non-Executive Director. This appointment is with effect from 1st July 2023 and Barbara will also become a member of all four board committees. Barbara brings strong leadership, deep understanding of metals and extensive experience in North American markets.
Chris Mottershead will step down as Chair of the Remuneration Committee following the Company's AGM in July 2023 and from the board on 26th January 2024, following a nine-year tenure.
Barbara will become the Senior Independent Director, succeeding John O'Higgins who will become Chair of the Remuneration Committee. These changes will take effect from the end of our AGM.
Catalyst Technologies seminar
We will host a Catalyst Technologies seminar on 27th June to provide a deep-dive into the strong growth prospects of this business.
Enquiries:
Investor Relations
Martin Dunwoodie, Director of Investor Relations: +44 20 7269 8241
Louise Curran, Senior Investor Relations Manager: +44 20 7269 8235
Carla Fabiano, Senior Investor Relations Manager: +44 20 7269 8004
Media
Barney Wyld, Group Corporate Affairs Director: +44 20 7269 8001
Harry Cameron, Teneo: +44 7799 152148  
Notes:
1. Underlying is before profit or loss on disposal of businesses, gain or loss on significant legal proceedings together with associated legal costs, amortisation of acquired intangibles, share of profits or losses from non-strategic equity investments, major impairment and restructuring charges and, where relevant, related tax effects. For definitions and reconciliations of other non-GAAP measures, see pages 47 to 50.
2. Unless otherwise stated, sales and operating profit commentary refers to performance at constant exchange rates. Growth at constant rates excludes the translation impact of foreign exchange movements, with 2021/22 results converted at 2022/23 average rates. In 2022/23, the translational impact of exchange rates on group sales and underlying operating profit was a benefit of £193 million and £38 million respectively.
3. Revenue excluding sales of precious metals to customers and the precious metal content of products sold to customers.
4. Delivered around £600 million of cash in 2022/23 at actual precious metal prices, which equates to just over £400 million at constant prices (March 2022). Delivered around £1.4 billion cumulatively since 2021/22 at actual metal prices. At least £4 billion of cash under our range of scenarios from 1st April 2021 to 31st March 2031. Cash target pre-tax and post restructuring costs.
5. Outlook commentary for Clean Air, PGM Services, Catalyst Technologies and Hydrogen Technologies assumes constant precious metal prices and constant currency.
6. Based on average precious metal prices in May 2023 (month to date).
7. c.£50 million adverse impact represents a gross PGM price impact before any foreign exchange movement.
A US$100 per troy ounce change in the average annual platinum, palladium and rhodium metal prices each have an impact of approximately £1 million, £1.5 million and £0.75 million respectively on full year underlying operating profit. This assumes no foreign exchange movement.
8. At average foreign exchange rates for May 2023 month to date (£:US$ 1.25, £:€ 1.14, £:RMB 8.70) translational foreign exchange movements for the year ending 31st March 2024 are expected to adversely impact underlying operating profit by c.£10 million.
Download the full release