Chief Executive's statement
Robert MacLeod gives an overview of the group's performance in 2016/17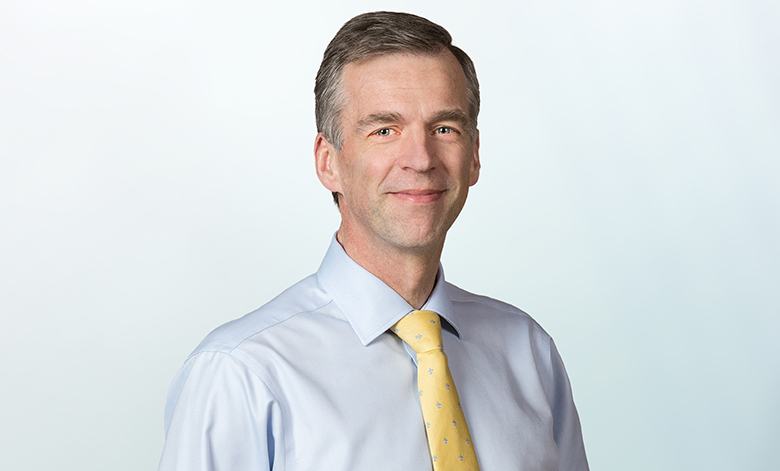 Overview
In 2016/17, Johnson Matthey has continued to apply its unrivalled science skills, bringing technical solutions to our customers and making a contribution towards a cleaner, healthier world. The company has also reached an incredible milestone – 1st January 2017 marked the 200th anniversary since its foundation.

In the context of our long history, it has been a year of further progress. We have strengthened our business, implemented our strategy and have delivered financial results in line with our expectations. Global markets have remained tough, yet at constant currency and on a continuing basis,
we grew our sales1 by 3% and our underlying profit before tax by 1%.

Underlying sales growth has come from the application of our leading technologies and we've continued to build for the future, investing a combined £440 million in capex and R&D during the year. In Emission Control Technologies, our technological strengths helped us to deliver strong sales growth, notably in Europe, as we provided customer focused solutions to meet increasing standards for emissions and consumer demand for cleaner air. We have broadened our platforms, in particular our pipeline of new active pharmaceutical ingredients which improve health and in high energy battery materials as we work to develop next generation technologies to enable the shift towards zero emission transportation.

Our cost saving programme has increased efficiency, primarily in Process Technologies and Fuel Cells. Cash generation has improved through our disciplined management of working capital and as a result, we have a strong base on which to build.


200 years of inspiring science
I am extremely proud to be Johnson Matthey's Chief Executive as we celebrate our 200th anniversary. This milestone comes at a time when the world is experiencing rapid change and Johnson Matthey's reputation, built on integrity, world class science and investing for the long term, is a precious commodity. I am pleased to say these foundations remain a focus in the company today.

While protecting what has made Johnson Matthey successful for so long, we must continue to look forward. We have therefore taken advantage of this milestone to refresh our brand so that our purpose and aspirations are clear and relevant to our current and future stakeholders. Our new brand identity – Inspiring science, enhancing life – encapsulates what we do best and highlights the hugely positive impact we have on the world. It will help us to build a stronger presence in our markets, connect with more customers worldwide and attract and retain top talent, all of which are vital for our 3rd century of growth.

Inspiring science is the basis of what makes Johnson Matthey special. Making sure that we are at the cutting edge and developing new technologies is essential. These things take time and we take a long term view. In 2016/17, we invested 5.6% of our sales in R&D, an increase of 7% on last year. To maximise the value from this investment we are more actively managing our innovation portfolio to ensure that we allocate our resources to those opportunities with the greatest potential.


Leading in sustainability
Ten years ago we set an ambition to make sustainability part of the way we do business. In 2007, we launched Sustainability 2017 to drive this. The programme came to a close at the end of March this year and we have achieved what we set out to do. We have transformed the efficiency of our operations and reduced their environmental impact, cutting by half both our carbon intensity and energy consumption relative to sales.
In 2016/17 we saved a further £25 million as a result of our continuous improvement programmes, bringing the total value generated since 2007 to £142 million. We've delivered improved solutions for our customers as 93% of our sales come from sustainable solutions. At the same time, we've created significant value for our shareholders, more than our doubling earnings per share.

The most significant positive impact of Sustainability 2017 has been on our culture. That connection between Johnson Matthey's science and the benefit to our planet and its people struck a real chord with our employees around the world. In a practical sense, employees across the group strive to run our operations responsibly, uphold the highest ethical standards and safeguard their own safety and that of their colleagues.
Our commitment to health and safety has been unwavering during the year. However, despite a number of group wide safety initiatives and continued excellence in safety performance at many of our facilities, we had too many lost time accidents this year, and saw an increase compared with 2015/16. Reversing the trend in 2017/18 is a top priority.
An evolving business
Towards the end of 2016/17, we reviewed the group's strategy which reinforced that in order to enhance our performance, we must build a more connected and collaborative organisation. Our objective is to leverage the entire breadth of our skills and capabilities for the benefit of our customers, providing them with solutions to their challenges.

Our aim is to be truly customer centric and understanding our customers' markets is key to achieving this. To help us focus on our customers' needs and on global priorities, we have restructured our business2 to focus on four areas: clean air, efficient natural resources, health, and new markets. These better align to our customers' markets and describe more clearly the positive impact of our products and services.
Putting our people first
Our employees are our most powerful resource and without them we can not deliver our long term strategy. We encourage our employees to reach their full potential, whatever their role. We have programmes in place across the business to support career development and retention, as well as to improve diversity and inclusion.

Their talent, commitment to our customers and pride in working for the company is key to our growth. However, as Johnson Matthey continues to grow and evolve, it is important we understand what our employees expect from us and how we can support them. This year we undertook our first global staff engagement survey. I was very pleased that 75% of our employees completed it and there were many encouraging results. Of those responding, 85% said that we provide a safe working environment, 88% said they would speak up if they had any concerns around ethical behaviour and 70% feel their jobs provide opportunities to do challenging and interesting work. However, the survey also highlighted a number of areas where we must do better, including on providing greater clarity on strategy and priorities, and we are actively working on this across the group.
Outlook
As Johnson Matthey enters its 3rd century, we remain focused on sustainable growth through enhancing our existing market leading technologies and developing next generation technologies.

For the full year 2017/18, sales growth, at constant rates, is expected to be broadly in line with the 6% growth delivered in the second half of 2016/17. The combination of stronger sales growth, together with additional cost savings, is expected to be offset by comparison against the 2016/17 post-retirement credit and by higher non-cash pension charges in 2017/18.

Beyond 2017/18, our stronger business platform and operational momentum will deliver sustained sales growth and margin expansion, aligned to our vision for a world that's cleaner and healthier.
Summary
Sales excluding precious metals grew by 3%

1% increase in underlying profit before tax1

7% increase in R&D investment, to £201 million
1 at constant currency in our continuing business