Introducing HTX™ wire: the latest in thermocouple technology
Ritesh Rawal, Research Group Leader and Les Hutton, Product Specialist, presented JM's latest innovative product in the field of thermocouples at the 2nd Thermocouple Users and Manufacturers Workshop.
15 December 2017
HTX™ wire is one of the biggest innovations in the field of precious metal thermocouples and resolves the long standing problem of short lifespan at high temperatures. Ritesh and Les discussed the technical reasons why standard thermocouples are inherently weak at high temperatures and looked at the challenges involved in solving the problem.
Type S and Type R thermocouples fail in service because of excessive grain growth in the platinum limb at high temperatures. Finding a solution is difficult due to the very tight electromotive force (EMF) requirements. These are extremely sensitive to dopants or alloying elements that can be used to improve strength at high temperatures. HTX™ was a result of combining JM's unparalleled expertise in making precious metal products for high temperature applications and decades of know-how in making high quality precious metal thermocouple wires with very tight tolerances.
HTX™ was developed by doping platinum with very small quantity of zirconium which is oxidised during processing to electrically neutral zirconia. Zirconia improves high temperature strength of platinum wire by pinning the grain boundaries and restricting the grain growth but without significantly affecting the EMF. The result is a wire that lasts more than 400 times longer at high temperatures (>1200°C) than standard platinum, whilst achieving Class 1 tolerance. The wire also has superior drift properties allowing it to stay within the Class 1 tolerance for longer.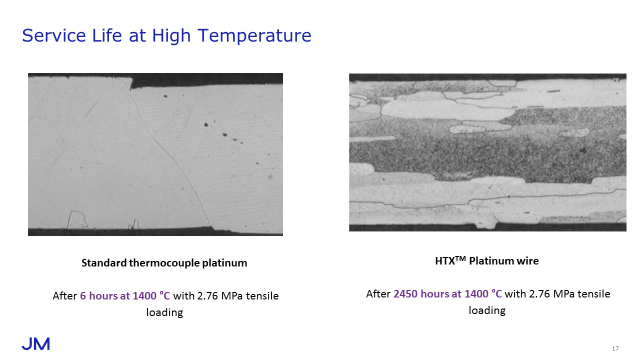 The presentation was very well received and generated a lot of interest. One of JM's key customers, present at the event, offered to extensively test the wire in different set ups and a similar offer was made by thermocouple experts at the prestigious NPL who felt that HTX™ thermocouple wire was a great innovation.

For more information contact Ritesh Rawal or Les Hutton directly.