ACE - the app for on-site chemical engineers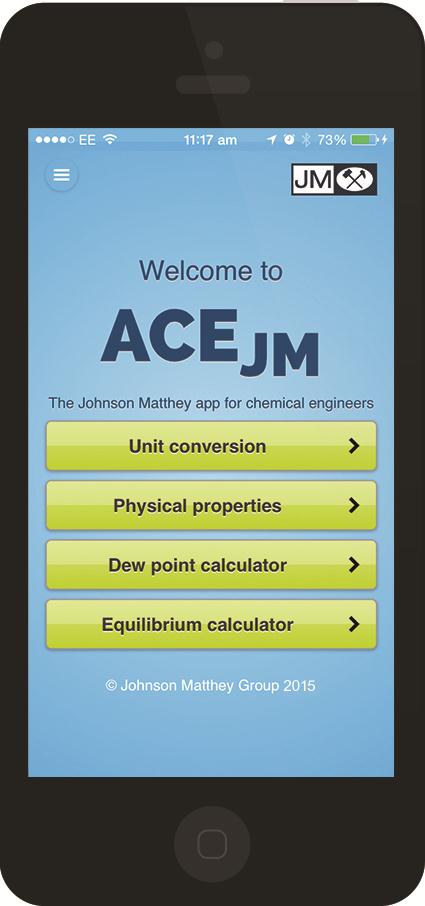 Do you ever need to calculate the dew point of a vapour stream? How about knowing the equilibrium ACE the app for chemical engineers from Johnson Mattheyconditions for a given gas composition? Are you ever faced with the challenge of those more complex engineering unit conversions?
Johnson Matthey has developed ACETM - the app that makes these calculations available to syngas plant engineers quickly and easily. Can't use your smart phone on-site? Our app is designed to run on PCs as well as all mobile phone and tablet platforms (Android, Windows, iOS and Blackberry).
ACEJM offers the following functionality:
Unit conversions for the main chemical engineering units commonly encountered by process plant engineers
Physical properties of ammonia and methanol
Dew point calculations for typical syngas plant conditions
Equilibrium calculations for:

Steam methane reforming
Water gas shift
Ammonia synthesis
Methanol synthesis
You can set ACE to default to the most common metric or US units and also have the option to personalize many of the individual screens with your choice of units.
Accessing ACE
ACE is available to download (it is not available through your app store).
After completing the registration form and accepting the terms and conditions the app will download. You can save it to your home screen or add it to your favourites using the normal process for your device (e.g. the box and arrow on iOS devices, three dots on Android, etc.).
Please ensure that you open the app and take a look around before disconnecting from your data connection. This will ensure that the app downloads completely and is then available to use off line.
If you have previously registered to use the app and wish to download it to another device or to access it via the website, simply click on the "Already registered" link at the top left hand corner of the registration page.
ACE has been optimized for more recent operating systems and internet browsers. Details of these are available in the Help section of the app