We continue to execute well against our strategy and delivered first half operating performance in line with expectations. I was pleased with the continued good sales growth, demonstrating our broad based growth drivers, although operating profit was slightly down as a result of one-off costs associated with manufacturing inefficiencies in Clean Air in the first half.

Robert MacLeod, Chief Executive
Robert MacLeod, Chief Executive, commented:
We expect to deliver a stronger second half, primarily driven by the absence of the one-off costs and seasonality in Efficient Natural Resources. For the full year, we expect to deliver group operating performance in line with market expectations.

Given our clear strategy, the strong foundations we have put in place and the ongoing investment into the business for the longer term, we remain confident about the future growth prospects across all of our sectors, which will together drive mid to high single digit growth in earnings per share over the medium term. Our focus remains on executing our strategy, delivering on the ambitions that we laid out at our recent Capital Markets Day and continuing to drive towards our vision to create a cleaner, healthier world.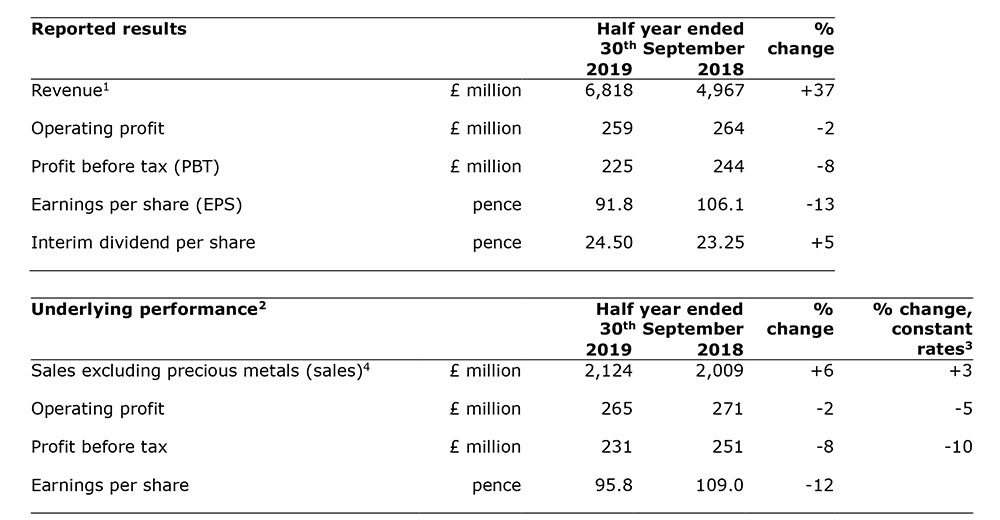 Underlying performance2
Sales increased 3% driven by good growth in Clean Air and Efficient Natural Resources
Underlying operating profit declined 5% impacted by c.£15 million of one-off costs in Clean Air, which included additional freight costs and inefficiencies within our manufacturing footprint, driven by the phasing of completion of our new plant in Poland as we serve the strong growth in our European Light Duty business
Underlying EPS declined 12% reflecting lower underlying operating profit, higher net interest expense and a one-off tax provision
Capital expenditure of £186 million in the first half and estimated to be up to £500 million in 2019/20, in line with previous guidance, as we invest in strategic growth projects
Free cash flow weaker as expected driven by higher precious metal working capital (price and volume) and higher capital expenditure
Stable average working capital days excluding precious metals
Return on invested capital (ROIC) lower primarily driven by higher precious metal working capital
Net debt to EBITDA of 2.1x with net debt at £1.5 billion, impacted by higher precious metal working capital


By sector
Good growth in Clean Air with sales up 4%, well ahead of the decline in global vehicle production, although operating profit was impacted by the phasing of completion of our new plant in Poland
Sales and operating profit growth in Efficient Natural Resources driven by strong performance in Pgm Services as a result of higher average pgm prices, and improved licensing income
In Health, sales declined although operating profit grew double digit driven by net benefits from footprint optimisation
New Markets saw good sales growth but lower operating profit due to higher costs as we develop eLNO®, our portfolio of leading ultra-high energy density cathode materials. We continue to make good progress with commercialisation of eLNO and recently moved to full cell testing with two customers, another significant milestone in the customer validation process


Reported results
Reported revenue increased 37% reflecting higher precious metal prices
Reported operating profit down 2%
Reported EPS down 13% reflecting lower operating profit, higher net interest expense and a one-off tax provision
Cash outflow from operating activities of £159 million due to an increase in precious metal working capital
Interim dividend up 5% to 24.50 pence given our confidence in the group's future prospects


Outlook for the year ending 31st March 2020
For 2019/20, we expect to deliver group operating performance in line with market expectations5. We expect a stronger second half due to the absence of one-off costs, seasonality in Catalyst Technologies and efficiency gains in Pgm Services
Enquiries
Investor relations
Martin Dunwoodie, Director of Investor Relations 020 7269 8241
Louise Curran, Senior Investor Relations Manager 020 7269 8235
Jane Crosby, Investor Relations Manager 020 7269 8242
Media
Sally Jones, Director of Corporate Relations 020 7269 8407
David Allchurch, Tulchan Communications 020 7353 4200
Notes:
1. Revenue for the six months ended 30th September 2018 has been restated, see note 15 on pages 39 to 40
2. Underlying is before profit or loss on disposal of businesses, gain or loss on significant legal proceedings together with associated legal costs, amortisation of acquired intangibles, major impairment and restructuring charges and, where relevant, related tax effects. For definitions and reconciliations of other non-GAAP measures, see pages 41 to 42
3. Unless otherwise stated, sales and operating profit commentary refers to performance at constant rates. Growth at constant rates excludes the translation impact of foreign exchange movements, with 2018/19 results converted at 2019/20 average exchange rates
4. Revenue excluding sales of precious metals to customers and the precious metal content of products sold to customers
5. Vara consensus for full year underlying operating profit in 2019/20 is £595 million (range: £583 million to £611 million)
eLNO is a trademark of Johnson Matthey Public Limited Company