Sulphur removal absorbents
Sulphur (hydrogen sulphide or organo-sulphur compounds) removal is critical to prevent risks to health and the environment, improve process safety and operation, and to meet product specifications.
Hydrogen sulphide (H2S) is a very toxic and corrosive compound which needs to be removed from hydrocarbon and CO2 streams before they can be safely used by industry and homes. Upon the combustion of sulphur containing gas, sulphur dioxide can be formed which can lead to health (e.g. respiratory and cardiovascular disease) and environmental issues (e.g. acid rain). The corrosive nature of the H2S affects plant equipment and pipework, and along with organo-sulphurs species can cause downstream catalyst poisoning, costing industry billions of dollars per year in lost production.
Johnson Matthey is offering our market leading sulphur removal absorbents, in line with our vision for cleaner and healthier world.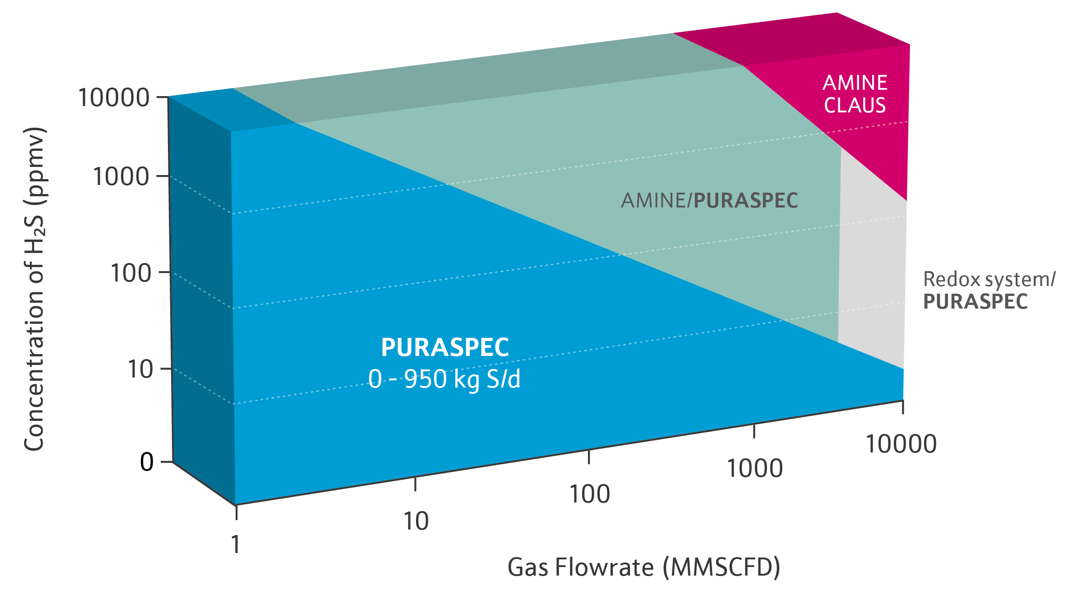 Our PURASPEC absorbents are proven over the last four decades to be a simple and effective solution to remove sulphur to very low concentrations within the gas processing, refining and petrochemical markets. These are also finding home in emerging sustainability and decarbonisation driven technologies such as renewable and recyclable feeds, and CCUS.

Our latest patent protected innovation in sulphur removal technology, PURASPEC 1065, achieves the highest sulphur removal capacity in natural gas processing, boasting a 66% capacity increase to our most popular PURASPEC 1038A sulphur absorbent. The superior capacity of the latest generation sulphur removal absorbent translates into:
Most cost-effective solution in terms of cost per kilograms of sulphur removed
Lowest absorbent volume and vessel footprint
Longer absorbent life, giving the best lifecycle cost

Commercial and environmental pressures are setting increasingly tight limits on the levels of sulphur compounds allowed in gas and liquid streams for use and transportation. PURASPEC absorbents are designed to remove sulphur from natural gas, condensate/NGL, LNG, vent and shale gases and CO2 but the list is not exclusive.
The cornerstones of all PURASPEC sulphur removal absorbents are:
Cost effective sulphur removal to very low levels
Highest product capacities in the market
Reliable performance and long predictable lives
Low and stable pressure drop due to inherent granule strength
Chemically bound sulphur species facilitating the spent absorbent disposal
The absorbent does not contain associated hydrocarbons.
Johnson Matthey's representatives should be consulted to determine which product is the most appropriate for any given application/duty and how to maximise its utilisation. Send us a message to request a quote or ask our advice. We'd be happy to hear from you. All our products are supported by dedicated regional teams and are fully re-processable at the end of life through our PURACARE service.
Get in touch
With a range of solutions available, our team will help you select the right technology for your journey.
Johnson Matthey's Purification team