25%
growth in demand for primary chemicals by 2030
18%
of the world's carbon dioxide emissions are from the chemicals industry
Our world relies on chemicals – they are in everything from our clothes to cleaning products, food packaging to medicine. As the world's population continues to grow and living standards improve, demand for primary chemicals is expected to grow by 25% by 2030.

The chemicals industry currently accounts for 18% of the world's carbon dioxide (CO2) emissions. So finding ways to decarbonise the production of chemicals is essential to making modern life more sustainable.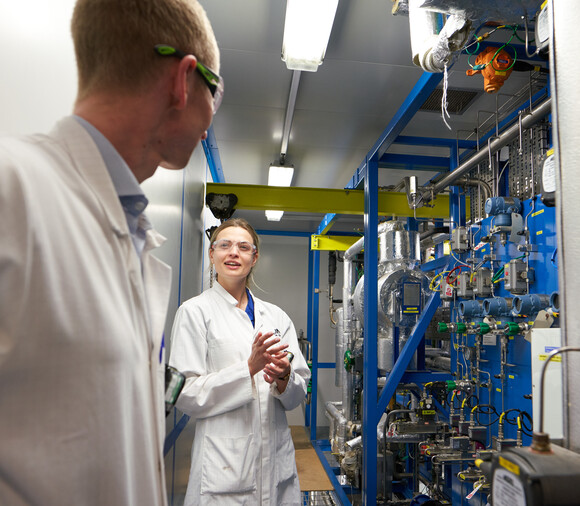 Syngas – the building block of chemicals

Synthesis gas (syngas), a mix of carbon monoxide, carbon dioxide and hydrogen, is a key building block of around 40% of primary chemicals. At JM, we have been leading in the syngas value chain for decades. This includes technology for producing methanol for paints and plastics, formaldehyde for building materials and ammonia for fertilisers.

As governments continue to introduce environmental regulation, carbon taxes and deadlines, we're helping our customers achieve their sustainability goals. Using our decades of expertise in catalysis and process engineering, we're enabling the two pillars of decarbonisation for the chemical industry: carbon reduction and carbon replacement.



Carbon reduction

By optimising processes and adding carbon capture and storage technology to current syngas chemical plants, we can reduce the amount of CO2 being released into our atmosphere. With our CLEANPACETM solutions we can retrofit existing hydrogen and methanol plants, enabling the reduction of carbon emissions from those processes by up to 95%.

In this way, our technology is helping to reduce the carbon footprint of everyday products. For example, Perstop Group's Project Air in Sweden is substituting all its fossil methanol used in Europe as raw material for chemical products (paint, glass, cleaning agents) with sustainable methanol, enabled by JM technology.



Carbon replacement

The second pillar is using alternative, sustainable materials to replace fossil fuels as the 'feedstocks' that make the chemicals in the first place. We have been turning traditional feedstocks into syngas for decades. But syngas can also be made from more sustainable feedstocks, such as household waste, biomass and captured CO2.

Building on our track-record of leading technology and long-standing customer relationships, JM's catalyst and process technologies are unlocking these alternative routes. For example, our HyCOgenTM technology combines captured CO2 with electrolytic (green) hydrogen, generated using renewable energy, to generate syngas.