Hydrogenation catalysts
Johnson Matthey offers a range of hydrogenation catalysts through its HTC™, PRICAT™ and SPONGE METAL™ catalyst brands.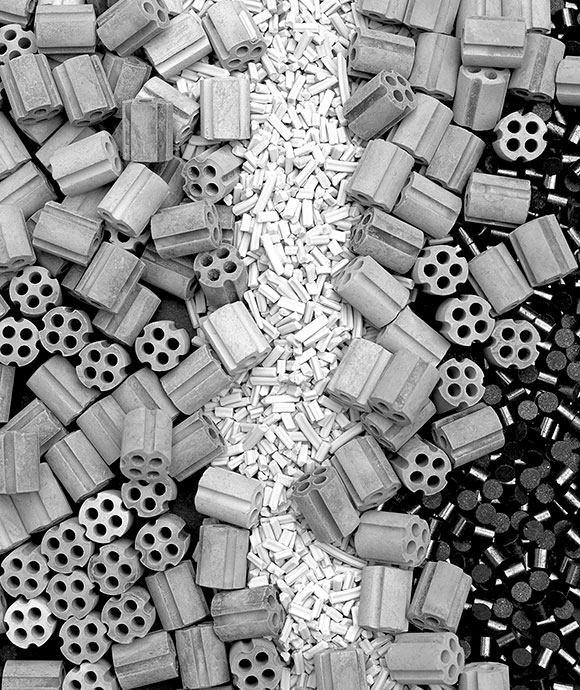 Using both precious and base metals, the application of these catalysts for biorenewables, petrochemical and oleochemical manufacture include:
Full and selective aldehyde hydrogenation for oxo-alcohol production
Olefin purification through selective hydrogenation

acetylene removal from ethylene
methyl acetylene / propadiene removal from propylene
C4 upgrading
C5 processing
Pygas stabilisation - removal of dienes and reactive olefins

Liquid phase slurry hydrogenation of nitrobenzene to aniline
Removal of aromatic and olefinic species from solvent streams
Acetone and phenol hydrogenation plus polishing duties and adiponitrile hydrogenation in caprolactam manufacture
Upgrading of biorenewables
Hydrogenation of anthraquinone in hydrogen peroxide production
Nitrile hydrogenation for specialty amines
Fluorochemical manufacture
Fats and oils production
Selective hydrogenation for fatty acids in oleochemicals
Polyol production.
Johnson Matthey also offers a variety of different dehydrogenation catalysts for different
markets, including the manufacture of caprolactam and olefins.
C4 upgrading and C5 processing
C4 acetylene hydrogenation catalysts
The raw C4 cut from steam cracking contains between 35% and 70% butadiene. This cut also contains up to 1.5% vinyl acetylene and 0.7% ethyl acetylene. The modern specification for combined C4 acetylenes in butadiene product is less than 10 ppm. Considerable efficiencies are available by converting vinyl acetylene to butadiene and ethyl acetylene to 1-butene instead of downgrading to fuel.We have formulated PRICAT™ PD 468 to ensure high C4 acetylene conversion whilst minimising butadiene hydrogenation and green oil formation.PRICAT PD 468 is available as part of our range of catalysts for olefin processes.
C4 selective hydrogenation catalysts
The butylene's yield from liquids cracking can be doubled by selective hydrogenation of co-produced acetylenes and butadiene to butylene.We have a range of PRICAT™ PD catalysts for effective selective hydrogenation of acetylenes and butadienes to butylenes. Offering both promoted and unpromoted products, we have catalysts for high LHSV situations as well as products designed to minimise butylene hydrogenation.
C5 selective hydrogenation catalysts
Steam cracking can produce pentenes at over 130 kg per MT of ethylene produced from liquids cracking, depending upon cracking severity and feedstock. After the first stage of pyrolysis gasoline processing, the pentenes rich distillate may contain up to 1% dienes which must be reduced to 100 ppm or less via selective hydrogenation for most downstream processes.
We offer a range of high quality palladium and nickel based catalysts to achieve this conversion. We offer versatile palladium catalysts as well as those tailored for high LHSV situations. Our product range also includes robust catalysts designed to deal with high sulphur and contaminated feeds. Please contact us for more information on our product range.
Get in touch
With a range of solutions available, our team will help you select the right technology for your journey.